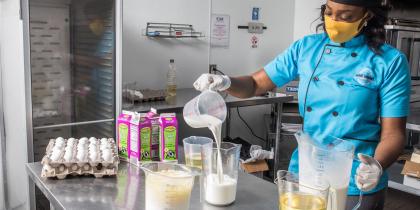 Dairy
The Dairy program keeps consumers and dairy producers safe.
Highlights
How we keep you safe
The Georgia Department of Agriculture's Dairy Section licenses and regulates facilities in Georgia:
Grade A dairy farms

Grade A dairy plants

Grade A single service plants

Cheese plants

Ice cream plants

Frozen dessert plants

Tanker wash facilities

Dairy warehouses
Inspectors within the Dairy Section monitor safety of dairy products sold or produced in Georgia. They collect samples of raw and finished dairy products for analyses and conduct tests on pasteurization equipment to verify proper pasteurization.
Affected by COVID-19 or other problems?
The Farmer to Farmer Support Program of the Georgia Milk Producers website offers support and resources.  
License Types
Licenses
Dairy Plant (Grade-A) License

Dairy Plant (Non Grade-A) License

Single-Service Plant License

Substation License
Permits
Bulk Tank Sampler Permit

Dairy Farm Permit

Dairy Goat Farm Permit

Raw Milk for Human Consumption Permit
Laws & Regulations
Regulations for dairy establishments are specified in chapter 40-2 of the Agriculture Rules.
The Grade A Pasteurized Milk Ordinance is published by the Food and Drug Administration.
Laws and Regulations
Laws and Regulations