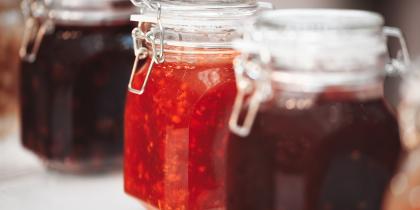 Cottage Food
The Retail Food section of the Georgia Department of Agriculture (GDA) regulates cottage food producers (also known as home-kitchen food).  We make sure that all food is produced safely and to quality standards.   We also work with anyone wanting to start their own cottage food business.
Highlights
About this Program

Cottage foods, also known as home-kitchen foods, are produced and packaged by a cottage food vendor in a kitchen and prepared for direct sale by that vendor. Cottage foods are intended for human consumption. Pet food and pet treats require a feed license from Agricultural Inputs.

Cottage food sales are allowed under Georgia regulations. Licensed cottage food operators are permitted to make only food that is not potentially hazardous (see examples of approved products below). Operators can use their home kitchen to make products to sell directly to consumers at non-profit events, for-profit events, and through online sales.

Note: Cottage food operators aren't allowed to distribute or wholesale these products, nor can they ship cottage food products across state lines. If they're made and sold without a Food Sales Establishment License, cottage food products are considered to be from an unapproved source. They can't be distributed to retail stores, restaurants, or institutions.

Cottage food products include:

Loaf Breads, Rolls, and Biscuits
Cakes
Pastries and Cookies
Candies and Confections
Fruit Pies
Jams, Jellies, and Preserves
Dried Fruits
Dry Herbs, Seasonings and Mixtures
Cereals, Trail Mixes, and Granola
Coated or Uncoated Nuts
Vinegar and Flavored Vinegar
Popcorn, Popcorn Balls, and Cotton Candy

Cottage Food Vendors

Here's what you need to get started as a cottage food vendor in Georgia. You'll find helpful information and rules about labeling, hygiene, food safety, nutrition and ingredients, and other subjects. It includes a handy checklist of things you'll need to do before you submit a cottage food license application: Starting a Cottage Food Business.

Here's some additional information about food labels: Food Labeling Requirements.

Here's our cottage vendor FAQ page: Cottage Foods FAQ

Cottage Food Operators must complete an American National Standards Institute (ANSI) accredited food safety training program. There are different levels of training, including Food Handler and Certified Food Manager. Food Handler training is acceptable for cottage food operators. View a directory of ANSI accredited programs.
Laws & Regulations
Laws and Regulations
Laws and Regulations