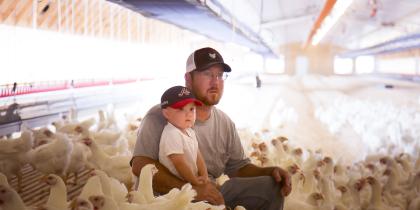 Poultry
The Livestock & Poultry section of the Georgia Department of Agriculture (GDA) regulates and monitors the sale and exhibition of poultry, and ensures that poultry disposal pits are environmentally safe.
Highlights
The Livestock & Poultry program regulates sales and shows that include poultry, as well as poultry dealers. We also ensure that poultry mortality disposal does not contaminate local groundwater or cause other environmental problems.
If you are a poultry producer, you must register your mortality disposal location. Contact us using the information below to register.  
Important!  If your flock is showing any signs of Avian Influenza, report it immediately.
License Types
Licenses for this Program
Licenses for this Program