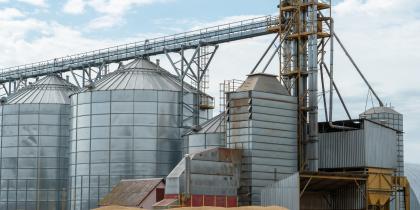 Warehouse & Bonding
The Warehouse & Bonding program of the Georgia Department of Agriculture (GDA) regulates dealers in agricultural products as well as warehouses that store certain agricultural commodities.  We ensure that these businesses are licensed and have adequate security bond coverage.  Our goal is to help protect Georgia's producers.
Highlights
About this Program

GDA regulates certain types of agriculture-related warehouse as well as any companies who deal in or distribute agricultural products.  Regulation protects the Georgia producers who store their commodities at the warehouses or sell them to dealers.

Warehouses

Commercial agricultural storage facilities in the state are licensed, bonded, and inspected for inventory quantity and quality compliance. The regulated warehouses are cotton, grain, and tobacco. Dealers for these products are also required to have licenses.

Dealers in Agricultural Products

Non-warehouse facilities that GDA regulates include all businesses or individuals purchasing agricultural products (fruits, vegetables, pecans) from or selling for Georgia producers.  

Livestock Markets and Dealers

Anyone who buys or sells livestock on commission must be licensed with the state.  This license does not include poultry dealers.  See our Poultry page for information on poultry dealer licenses.

Regulated Facilities

Dealers in Agricultural Products
Cotton Warehouses
Cotton Dealers
Grain Warehouses
Grain Dealers
Tobacco Warehouses
Tobacco Dealers
Livestock Markets
Livestock Dealers

Producer Complaints

Agricultural producers with a non-payment complaint against one of our licensed facilities can notify us using our online complaint form.

Bonding

Licensed warehouses and dealers in agricultural products must maintain adequate surety bond coverage. The purpose of this coverage is to provide limited financial protection for our Georgia producer or the individual storing the product.

Our Warehouse & Bonding team checks all bonds to ensure they provide adequate coverage for licensing and that they are issued by an approved company. We also coordinate with federal bonding agencies, investigate nonpayment complaints, perform audits, and handle bond claims.

Any Georgia producer who wants to verify surety bond coverage of a buyer, make a bond claim, or submit a nonpayment complaint can contact us using the information below.
License Types
Licenses for this Program
Licenses for this Program