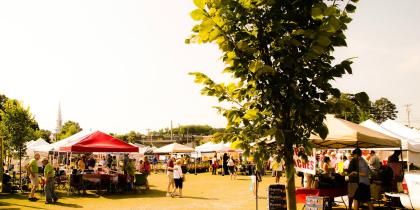 Community Farmers Markets
The State of Georgia is blessed to have a large number of thriving community farmers markets.  These markets are places where farmers can sell directly to their neighbors. They are often operated by non-profits, or local governments.
Is your community considering starting up its own community farmers market? Here's a great guide filled with everything you need to know: Farmers Market Toolkit.
Below is a list of community markets in Georgia listed by County.  
If you have any questions, or if any of this information needs to be updated, please email the webmaster.
Directory
A | B | C | D | E | F | G | H | I | J | K | L | M | N | O | P | Q | R | S | T | U | V | W | X | Y | Z |
Barrow County
Barrow County Farmers Market
30 N Broad St
Winder, Ga 30680
Location: Behind the historic courthouse in downtown Winder
Hours: 8:30-12:00 Saturdays through Nov
Tel: (678) 979-9369
Email: Send Email
Facebook: Visit our Facebook page
Website: Visit our website
Braselton Farmers Market
9924 Davis Street
Braselton GA 30519
Location: Lower patio of the Braselton Bros. Department Store building
Hours: Fridays: 4:00 p.m. – 7:00 p.m. (May - September)
Tel: (706) 684-0369
Email: Send Email
Facebook: Visit our Facebook page
Website: Visit our website
Bartow County
Cartersville Farmers Market
10 North Public Square
Cartersville, GA 30120
Location: In Founder's Oak Parking Lot across the street from City Hall next to railroad tracks in downtown
Hours: Saturdays: 8:00 a.m. – 12:00 p.m. (May - September)
Tel:(770) 607-3480
Email: Send Email
Facebook: Visit our Facebook page
City of Emerson Farmer's Market
700 Highway 293
Emerson, GA 30137
Location: In City Hall parking lot
Hours: Weekly Every Tuesday Afternoon from 4-7pm - Beginning May 3rd - Ending September 6th
Tel:(770) 382-9819
Email: Send Email
Facebook: Visit our Facebook page
Website: Visit our website
Bibb County
Macon State Farmers Market
Location: 2055 Eisenhower Parkway
Macon, GA 31206
Hours: Daily: 7:00 a.m. - 9:30 p.m. (Year Round) Tel: (478) 752-1097
Email: Send Email
Facebook: Visit our Facebook page
Website: Visit our website
Mulberry Street Market
1155 College Street,
Macon, GA 31201
Location: Tattnall Square Park
Hours: Wednesday 3:30 p.m. - 6:00 p.m. (Year Round)
Tel: (478) 254-5216
Email: Send Email
Facebook: Visit our Facebook page
Website: Visit our website
The Market
678 Poplar Street
Macon, GA
Location: Addison Tinsley Park (Poplar Street Median between First Street and Second Street)
Hours: 11am-3pm, Third Sundays (April-November)
Tel: Emily Hopkins (478) 722-9909
Email: Send Email
Facebook: Visit our Facebook page
Website: Visit our website
Wesleyan Market
4760 Forsyth Raod
Macon, GA
Location: Front Campus, right by the road on Zebulon
Hours: Second Saturdays (Year Round) Tel: Kelly Page at Wesleyan Auxiliary Services (478) 757-5233
Email: Send Email
Facebook: Visit our Facebook page
Website: Visit our website
Bleckley County
Cochran Farmers Market
112 N 2nd St
Cochran, GA 31014
Hours: Sat. 9:30 a.m. - 1:00 p.m.
Tel: (478) 278-8339
Email: Send Email
Facebook: Visit our Facebook page
Brooks County
Valdosta State Farmers Market
1500 S. Patterson Sreet.
Valdosta, GA 31601
Hours: Open Daily
Tel: (229) 225-4072
Visit our website
Camden County
St. Marys Community Market
100 Osborne Sreet St. Marys, GA 31558
Location: St. Mary's Waterfront Pavilion at the end of Osborne Street
Hours: 9am - 1pm Every Saturday (except Festival Days)
Tel: (912) 882-4000
Email: Send Email
Website: Visit our website
Carroll County
Cotton Mill Farmers Market
609 Dixie St
Carrollton, GA 30117
Location: Next to Keep Carroll Beautiful just North of Tanner Medical Center
Hours: Saturdays: 9:00 a.m. - 11:00 a.m.
Email: Send Email
Facebook: Visit our Facebook page
Website: Visit our website
Chatham County
Forsyth Farmers Market
1 West Park Avenue, Savannah, GA 31401
Location: Bull Street and Park Avenue
Hours: Saturdays: 9:00 a.m. - 1:00 p.m. (Year round)
Tel: (912) 484-0279
Email: Send Email
Facebook: Visit our Facebook page
Website: Visit our website
Savannah State Farmers Market
701 U.S. Highway 80 West
Savannah, GA 31408
Hours: Daily: 6:00 a.m. - 6:00 p.m. (Year Round)
Tel: (912) 966-7801
Email: Send Email
Website: Visit our website
Cherokee County
Canton Farmers Market
130 E Main Sreet, Canton, GA 30114
Location: Cannon Park
Hours: Saturdays: 9:00 a.m. - 1:00 p.m. (May - October)
Tel: (770) 704-1500
Email: Send Email
Facebook: Visit our Facebook page
Cherokee Market Farm Fresh Produce & Antiques
11611 Cumming Highway, Canton, GA, 30115
Hours: Last Saturday: 10:00 a.m. - 6:00 p.m. (May - September)
Email: Send Email
Facebook: Visit our Facebook page
Woodstock Farm Fresh Market
Market Sreet
Woodstock, GA 30188
Location: On Market Street in Downtown Woodstock
Hours: Saturdays from 8:30 a.m. - Noon (April - December)
Tel: (770) 924-0406
Email: Send Email
Website: https://visitwoodstockga.com/event-group/farm-fresh-market/
Waleska Farmers Market at Reinhardt University
8891 Fincher Road
Waleska, GA 30183 (Cherokee County)
Location: Next to City Hall
Hours: Thursdays: 9:00 a.m. - 1:00 p.m. (May - September)
Tel: (404) 805-7468
Email: Send Email
Facebook: Visit our Facebook page
Clarke County
Athens Farmers Market
705 Sunset Dr.
Athens, GA 30601
Location: Bishop Park
Hours: Saturdays: 8:00 a.m. - 12:00 p.m. (April - December)
Tel: (832) 482-5916
Email: Send Email
Facebook: Visit our Facebook page
Website: Visit our website
Clayton County
Jonesboro Farmers Market
155 Lee Street, Jonesboro GA 30236
Location: Lee Street Park
Hours: Wednesdays: 10:00 a.m. - 1:00 p.m. / Saturdays: 8:00 a.m. - 12:00 p.m. (May - October)
Tel: (770) 478-3800
Email: Send Email
Facebook: Visit our Facebook page
Cobb County
Acworth Farmers Market
4405 Cherokee Street,
Acworth, GA 30101
Location: Downtown Acworth; Upper parking lot on Main St.
Hours: Fridays: 8:00 a.m. - 12:00 p.m. (April - October)
Tel: (770) 974-8813
Email: Send Email
Facebook: Visit our Facebook page
Nam Dae Mun Farmers Market at Cobb International
2350 Spring Road.
Smyrna, GA 30080
Monday - Saturday from 9:00 a.m. - 10:00 p.m. (Year round)
Hours: Sundays: 10:00 a.m. - 8:00 p.m. (Year Round)
Tel: (770) 407-6360
Facebook: Visit our Facebook page
Website: Visit our website
*Indoor market
Kennesaw Farmers Market
2829 Cherokee St, Kennesaw, GA 30144
Location: Depot Park in the bus turn-around lot
Hours: Mondays: 3:30 p.m. - 7:30 p.m. (May - August)
Tel: (770) 485-0081 Ext 100
Email: Send Email
Facebook: Visit our Facebook page
Website: Visit our website
Marietta Square Farmers Market
65 Church Street NW, Marietta, GA 30060
Location: Mill Street, 1 block off the Historic Marietta Square
Hours: Saturdays: 9:00 a.m. - 12:00 p.m. (Year Round) / Sundays 12:00 p.m. - 3:00 p.m. (May - October)
Tel: (770) 499-9393
Email: Send Email
Facebook: Visit our Facebook page
Website: Visit our website
Smyrna Outdoor Market
200 Village Green Circle SE, Smyrna, GA 30080
Location: Atlanta Road next to the Smyrna Community Center
Hours: Saturdays: 8:00 a.m. - 12:00 p.m. (May - October)
Tel: (770) 431-2863
Email: Send Email
Facebook: Visit our Facebook page
Website: Visit our website
Colquitt County
Moultrie State Farmers Market
1525 1st Avenue S.E., Moultrie, GA 31768
Location: Quitman Highway
Hours: Daily: 7:00 a.m. - 7:00 p.m. (Year Round)
Restaurant: 11:00 a.m. - 2:00 p.m. / 5:00 p.m. - 9:00 p.m.
Tel: (912) 891-7240
Email: Send Email
Facebook: Visit our Facebook page
Website: Visit our website
 
Coweta County
Coweta County Farmers Market
6 First Avenue, Newnan, GA, 30263
Location: Around the courthouse square in Downtown Newnan (Wednesdays) & At the Asa M Powell Sr Expo Center (Saturdays)
Hours: Wednesdays & Saturdays: 9:00 a.m. - 1:00 p.m. (June - October)
Tel: 770-254-2620
Email: Send Email
Facebook: Visit our Facebook page
Website: Visit our website
Crisp County
Cordele State Farmers Market
1901 U.S. Highway 41 North, Cordele, GA 31010
Hours: Daily: 7:00 a.m. - 11:00 p.m. (June - August) / 7:00 a.m. - 4:00 p.m. (September - May)
Tel: (229) 276-2335
Email: Send Email
Facebook: Visit our Facebook page
Website: Visit our website
Dawson County
Amicalola Regional Farmers Market
82 Allen St.,
Dawsonville, GA 30534
Location: City of Dawsonville Farmers Market Pavilion located on Allen Street
Hours: Saturdays: 8:00 a.m. - 12:00 p.m.
Tel: (706) 265-2442
Email: Send Email
Facebook: Visit our Facebook page
Dekalb County
Brookhaven Farmers Market
1375 Fernwood Circle NE,
Brookhaven, GA 30319
Location: Behind Brookhaven Baptist Church
Hours: Saturdays: 9:00 a.m. - 12:00 p.m. (April-November)
Email: Send Email
Facebook: Visit our Facebook page
Website: Visit our website/
Decatur Farmers Market
308 Clairemont Avenue,
Decatur, GA 30083
Location: Front lawn of the Decatur First Baptist Church Hours: Wednesdays: 4:00 p.m. - 6:00 p.m. / Saturdays: 9:00 a.m. - 1:00 p.m. (April - December) / 10:00 a.m. - 1:00 p.m. (November - March)
Trl: (404) 919-3619
Email:Send Email
Facebook: Visit our Facebook page
Website:Visit our website
East Atlanta Village Farmers Market
572 Stokeswood Avenue,
Atlanta, GA, 30316
Location: Across the street from the Midway Publix
Hours: Thursdays: 4:00 p.m. - 8:00 p.m. (April - November) Tel: (404) 919-3619
Email: Send Email
Facebook: Visit our Facebook page
Website: Visit our website
Emory Farmers Market
569 Asbury Circle
Atlanta, GA 30322
Hours: Tuesdays: 11:00 p.m. - 3:00 p.m. (Year round except during summer and school breaks )
Tel: 404-727-4015
Email: Send Email
Facebook: Visit our Facebook page
Website: Visit our website
Tucker Farmers Market
4882 Lavista Road,
Tucker, GA, 30084
Location: In the Bank of America parking lot
Hours: Thursdays: 4:00 p.m. - 8:00 p.m. (April - December)
Tel: (404) 840-1477
Email: Send Email
Facebook: Visit our Facebook page
Website: Visit our website
Douglas County
Church St Farmers Market
6730 Church Street, Douglasville, GA 30134
Location: Parking lot
Hours: Tuesdays: 3:00 p.m. - 7:00 p.m. (May - October)
Email: Send Email
Facebook: Visit our Facebook page
Website: Visit our website
Fayette County
Peachtree City Farmers Market
215 Northlake Drive
Peachtree City, GA 30269
Location: Aberdeen Village Shopping Center
Hours: Wednesdays & Saturdays: 9:00 a.m. - 1:00 p.m. (Year Round)
Tel: (770) 676-4085
Email: Send Email
Facebook: Visit our Facebook page
Visit our website
Floyd County
Ridge Ferry Park Farmers Market
363 Riverside Parkway NE,
Rome, GA 30161
Location: Ridge Ferry Park Farmers Market Pavilion
Hours: Wednesdays & Saturdays: 7:00 a.m. - 11:00 a.m. (June - October)
Tel: (706) 291-0766
Email: Send Email
Facebook: Visit our Facebook page
Website: Visit our website
Forsyth County
The Cumming Harvest (ONLINE MARKET)
724 Pilgrim Mill Road.
Cumming, GA 30040
Location: Pick-ups at the outbuilding behind the Episcopal Church of the Holy Spirit
Hours: ORDER ONLINE: 8:00 a.m. Wednesday to 8:00 p.m. Thursday
            PICK UP: Saturdays: 10:00 a.m. - 12:00 p.m.
Tel: (716) 427-8378
Email: Send Email
Facebook: Visit our Facebook page
Website: Visit our website
Fulton County
Downtown Alpharetta Farmers Market
North and South Broad Street,
Alpharetta, GA, 30004
Hours: Saturdays: 8:30 a.m. - 12:00 Noon (April - November)
Location: In front of City center alongside the Town Green
Tel: (678) 865-6608
Email: Send Email
Facebook: Visit our Facebook page
Castleberry Farmers Market dba Castleberry Market
492 Larkin St SW,
Atlanta, GA 30313
Hours: Sunday 1:00 pm - 6:00 pm (February-November)
Tel: (404) 333-3970 Email: Send Email
Website: www.castleberrymarket.com
Instagram: Visit our Facebook page
Facebook: Visit our Facebook page
Common Ground Farmers Market
7741 Roswell Road.
Atlanta, GA 30350
Location: Fulton County Government Annex Building
Hours: Mon., Wed., Fri. 9 a.m. – 1 p.m. (During the growing season)
Tel: (404) 292-0613
Email: Send Email
East Point Farmers Market
2757 East Point Sreet
East Point, GA, 30344
Location: Commons Area
Hours: Wednesdays: 4:00 p.m. - 7:00 p.m. (March - December)
Tel: (404) 207-8048
Email: Send Email
Fscebook: Visit our Facebook page
Website: Visit our website
Freedom Farmer's Market at the Carter Center (Truly Living Well)
324 Lawton Street SW,
Atlanta, GA 30310
Location: 453 Freedom Parkway NE, Atlanta, GA 30307
Hours: Saturdays: 9:00 a.m. - 1:00 p.m.
Tel: (678) 973-0997
Email: Send Email
Facebook: Visit our Facebook page
Website: Visit our website
Grant Park Farmers Market
600 Cherokee Avenue SE
Atlanta, GA 30312
Location: 453 Freedom Parkway NE, Atlanta, GA 30307
Hours: Sundays: 9:00 a.m. - 1:00 p.m. (April - December)
Tel: (404) 919-3619
Email: Send Email
Facebook: Visit our Facebook page
Website Visit our website
Green Market
1071 Piedmont Avenue. NE
Atlanta, GA 30309
Location: 12th Street entrance to Piedmont Park off Piedmont Avenue. NE
Hours: Sat. 9 a.m. – 1 p.m.
Tel: (404) 876-4024
Email: Send Email
Website: Visit our website
Morningside Farmers Market
1393 North Highland Avenue
Atlanta, GA 30306
Location: Across the street from Alon's Bakery / next door to Rosebud Restaurant
Hours: Saturdays: 8:00 a.m. - 11:30 a.m. (Year Round)
Tel: (770) 401-7782
Email: Send Email
Facebook: Visit our Facebook page
Website: Visit our website
The Night Market
5140 Town Center Boulevard,
Peachtree Corners, GA 30092
Location: Town Green at Town Center
Hours: Fridays: 6:30 p.m. - 9:30 p.m. (May - October)
Tel: (404) 529-4405
Email: Send Email
Website: Visit our website
Peachtree Road Farmers Market
2744 Peachtree Road NW.
Atlanta, GA 30305
Location: The Cathedral of St. Philip
Hours: Saturdays: 8:30 a.m. - 12:00 p.m. (March - December)
Tel: (404) 365-1105
Email: Send Email
Facebook: Visit our Facebook page
Website: Visit our website
Roswell Farmers and Artisans Market
38 Hill Sreet.
Roswell, GA 30350)
Location: Under the oaks behind Roswell City Hall
Hours: Saturdays: 8:00 a.m. - 12:00 p.m. (April - October)
Tel: (404) 492-9938
Email: Send Email
Facebook: Visit our Facebook page
Website: Visit our website
Sandy Springs Farmers Market
1 Galambos way,
Sandy Springs, GA, 30328
Location: City Springs
Hours: Saturdays: 8:30 a.m. - 12:00 p.m.(April 9th - November 12th)
Tel: (678) 743-6314
Email: Send Email
Facebook: Visit our Facebook page
Website:Visit our website
Serenbe Farmers and Artists Market
9110 Selborne Lane,
Chattahoochee Hills, GA 30268
Location: Adjacent to 9110 Selborne Lane, corner of Serenbe Lane and Serenbe Way
Hours: Saturdays: 9:00 a.m. - 1:00 p.m. (April - October)
Tel: (770) 463- 9319
Email: Send Email
Facebook: Visit our Facebook page
Website: Visit our website
Municipal Market in Sweet Auburn
209 Edgewood Avenue SE
Atlanta, GA 30303
Location: S109 Edgewood Avenue SE at the intersection of Jesse Hill Jr Drive
Hours: Monday - Saturday: 8:00 a.m. - 6:00 p.m. / Sunday: 10:00 a.m. - 5:00 p.m. (Year Round)
Tel: (404) 584-7057
Email: Send Email
Facebook: Visit our Facebook page
Website: Visit our website
Underground Atlanta Farmers Market
50 Upper Alabama St.
Atlanta, GA 30303
Location:  On Upper Alabama April-November. |  Downstairs, indoors December-March.
Hours: Saturdays 2-5 pm (Year-round)
Tel: (770) 758-7830
Email: Send Email
Website: Visit our website
Grady County
Cairo State Farmers Market
1110 N. Broad St.
Cairo, GA 31728
Hours: Daily: 6:00 a.m. - 9:00 p.m. (Year Round)
Tel: (229) 891-1539
Email: Send Email
Website: Visit our website
Gilmer County
Ellijay Farmers Market
1 Broad Street,
Ellijay, GA, 30540
Location: Between the Courthouse and Watkins Hall
Hours: Saturdays: 8:00 a.m. - 12:00 p.m. (April - October)
Tel: 706-273-9163
Email: Send Email
Facebook: Visit our Facebook page
Website: Visit our website
Gwinnett County
Alegre Farm Market ONLINE
2225 Givens Road
Dacula GA 30019
Location: Farm is located at 2225 Givens Rd, Dacula, GA 30519
Hours: Orders: Wednesdays before 5 p.m. / Pickups: Weekdays 9:00 a.m. - 7:00 p.m. & Saturdays: 9:00 a.m. - 12:00 p.m.
**Please text 770-339-3065 to arrange pickup during weekdays
Tel: (770) 339-3065 Ext 5
Email: Send Email
Facebook: Visit our Facebook page
Website: Visit our website
Lilburn Farmers Market
1400 Killian Hill Road,
Lilburn, GA 30047
Location: Good Shepherd Presbyterian Church
Hours: Fridays: 4:00 p.m. - 7:00 p.m. (May,June,July and August)
(678) 667-2592
Email: Send Email
Facebook: Visit our Facebook page
Website: Visit our website
Norcross Community Market
93 Park Dr.
Norcross, GA 30071
Location: Thrasher Park
Hours: Wednesdays: 4:00 p.m. - 7:00 p.m. (May - August)
Tel: ((678) 333-5718
Email; Send Email
Facebook:  Visit our Facebook page
Website: hVisit our website
Snellville Farmers Market
2342 Oak Rd.
Snellville, GA 30078
Location: On the Town Green in front of Snellville City Hall.
Hours: Every Saturday, 8:30 am to 12:30 pm, June 5th through September 25th on the Town Green
October through May the markets are held the first and third Saturdays, 9:00 am to noon, in the City Hall parking lot
Tel: (770) 861-0809
Email: Send Email
Facebook: Visit our Facebook page
Website: Visit our website
Suwanee Farmers Market
330 Town Center Avenue
Suwanee, GA 30024
Hours: Saturdays: 8:00 a.m. - 12:00 p.m. (May - September) / Second Saturday 9:00 a.m. - 11:00 a.m. (October - April)
Tel: (770) 945-8996 ext. 335
Email: Send Email
Website: Visit our website
 
Habersham County
The North Georgia Farmers Market
555 Monroe Sreet,
Clarkesville, GA, 30523
Location: 583 Monroe Street
Hours: Saturdays: 9:00 a.m. - 12:00 (May - September)
Tel: (706) 244-4105
Email: Send Email
Facebook: Visit our Facebook page
Website: Visit our website
Hall County
Gainesville Farmers Market
323 Broad Sreet SW,
Gainesville, GA, 30501
Location: Parking lot adjacent to Engine 209 by Jesse Jewell Pkwy and Academy St.
Hours: Fridays: 2:30 p.m. - 6:30 p.m. (May - October)
Tel: (678) 943-4442
Email: Send Email
Facebook: Visit our Facebook page
Website: Visit our website
Hall County Farmers Market
734 E Crescent Dr,
Gainesville, GA 30501
Location: East Crescent Drive and Jesse Jewel Pkwy near I-985, Exit 24
Hours: Tuesdays: 2:30 p.m. - 6:30 p.m. / Saturdays: 7:00 a.m. - 12:00 p.m..
Tel: (770) 531-6988
Email: Send Email
Facebook: Visit our Facebook page
Website: Visit our website
Henry County
Henry County Farmers Market
97 Lake Dow Road,
McDonough, GA, 30252
Location: In the Jason T Harper Event Center, Heritage Park
Phone: (770) 288-8421
Email: Send Email
Facebook: Visit our Facebook page
Visit our website
Houston County
International City Farmers Market
120 south Armed forces Blvd
Warner Robbins, GA 31088
Location: On Watson Blvd at Maple Street by Perkins Field across from Robins FCU
Hours: Thursdays: 1:00 p.m. - 6:00 p.m. (Year Round)
Tel: (478) 225-7626
Email: Send Email
Facebook: Visit our Facebook page
Website: Visit our website
Perry Farmers Market
901 Carroll Street,
Perry, GA 31069
Location: 901 Carroll Street Hours: Saturdays: 9:00 a.m. - 12:00 p.m. (Year Round)
Tel: (478) 255-7626
Email: Send Email
FAcebook: Visit our Facebook page
Website: Visit our website
 
Jackson County
Gilliand's Heritage Alpacas Farmers Market
1587 Dee Kennedy Road.
Hoschton, GA 30548
Hours: Sundays noon – 5 p.m.
Tel: Marty or Lisa (706) 949-2426
Angie (770) 601-7376
Email: Send Email
Website: Visit our website
Jenkins County
Millen Produce Market
803 Cotton Avenue,
Millen, GA 30442
Location: Cotton Market Park (Behind Regions Bank)
Hours: Tuesdays: 3:00 p.m. - 6:00 p.m. (May - October)
Tel: (478) 982-5595
Email: Send Email
Laurens County
Market on Madison
314 W Madison Sreet,
Dublin, GA, 31021
Hours: Saturdays: 7:30 a.m. - 12:30 p.m. (April - October)
Tel: (478) 272-2560
Email: Send Email
Facebook: Visit our Facebook page
Website: Visit our website
Liberty County
Hinesville Farmers Market
Commerce Street,
Hinesville, GA 31313
Location: Bradwell Park
Hours: Thursdays: 3:00 p.m. - 7:00 p.m. (May - October)
Tel: (912) 877-4382
Email: Send Email
Facebook: Visit our Facebook page
Lumpkin County
Dahlonega Farmers Market
52 North Park Street,
Dahlonega, GA, 30533
Location: Hancock Park in Downtown Dahlonega
Hours: Saturdays: 8:00 a.m. - 1:00 p.m. (May-September)
Tel: (706) 482-2707
Email: Send Email
Facebook: Visit our Facebook page
Website: Visit our website
 
McIntosh County
Darien Farmers Market
905 E Broad Street
Darien, Georgia , 31305
Location: Lion's Clubhouse
Hours: Fridays: 12:00 p.m. - 6:00 p.m.
Email: Send Email
Facebook: Visit our Facebook page
Madison County
Comer Farmers Market
1914 Madison Street
Danielsville, GA 30629
Location: Downtown Comer
Hours: Saturdays: 9:00 a.m. - 12:00 p.m. (April - December) / 10:00 a.m. - 12:00 p.m. (January - March)
Tel: (706) 207-4900
Email: Send Email
Website: Visit our Facebook page
Monroe County
City of Forsyth Farmers Market
9 North Jackson Street
Forsyth, GA 31029
Location: Behind Persons Bank
Hours: Saturdays: 9:00 a.m. - 12:00 p.m. (April - December) / 10:00 a.m. - 12:00 p.m. (January - March)
Tel: 478-994-7747
Email: Send Email
Facebook: Visit our Facebook page
Website: Visit our website
Morgan County
Farmview Market
2610 Eatonton Hwy, Madison, GA, 30650
Hours: Saturdays from 9 a.m. - 1 p.m. (May- September)
Tel: (844) 210-7030
Email: Send Email
Facebook: Visit our Facebook page
Website: Visit our website
Muscogee County
Market Days on Broadway
1000 Broadway,
Columbus, GA 31902
Location: In the 900, 1000, 1100, & 1200 blocks of Broadway
Hours: Saturdays: 9:00 a.m. - 12:00 p.m. (Year Round)
Tel: (706) 596-0111
Email: Send Email
Facebook:Visit our Facebook page
Website: Visit our website
 
Oconee County
Oconee Farmers Market
23 North Main Street,
Watkinsville, GA 30677
Location: Downtown Watkinsville
Hours: Saturdays: 8:00 a.m. - 12:00 p.m. (Year Round)
Tel: (770) 769-2704
Email: Send Email
Facebook: Visit our Facebook page
Website: Visit our website
Paulding County
Dallas Farmers Market
160 Confederate Avenue
Dallas, GA, 30132
Hours: Saturdays: 8:00 a.m. - 12:00 p.m. (April - September)
Tel: (770) 609-4982
Email: Send Email
Facebook: Visit our Facebook page
Website: Visit our website
Pickens County
Jasper Farmers Market
599 Stegall Drive,
Jasper, GA 30143
Location: Park & Ride parking lot on Highway 53
Hours: Saturdays: 7:30 a.m. - 12:00 p.m. (April - October)
Tel: (706) 253-8840
Email: Send Email
Facebook:  Visit our Facebook page
Website: Visit our website
Putnam County
Harmony Park Farmers Market
119 Harmony Crossing
Eatonton, GA 31024
Location: : Harmony Park at Harmony Crossing; Intersection of Harmony Road/Highway 44 in Eatonton, GA
Hours: : Saturdays: 8:00 a.m. - 12:00 p.m. (May - September)
Tel: (706) 923-0190
Email: Send Email
Facebook: Visit our Facebook page
Website: Visit our website
Rabun County
Clayton Farmer's Market
46 Plaza Way,
Clayton, GA 30525
Location: : Covered Bridge Plaza Shopping Center
Hours: Saturdays 9:00am to 12:30pm, Last Saturday in April through the end of October
Tel: (706) 490-1179
Email: Send Email
Facebook: Visit our Facebook page
Community Market of Rabun County
201 West Savannah Street,
Clayton, GA 30525
Location: In the Rabun County Pavilions, behind Rabun County Civic Center & Library
Tel: (706) 982-9432
Email: Send Email
Facebook: Visit our Facebook page
Website: Visit our website
Richmond County
The Augusta Market
15 8th Street,
Augusta, GA 30901
Location: Intersection of 8th Street Plaza and Reynolds Street
Hours: Saturdays: 8:00 a.m. - 2:00 p.m. (March - November)
Tel: (706) 627-0128 or (803) 640-2851
Email: Send Email
Facebook: Visit our Facebook page
Website: Visit our website
Augusta State Farmers Market
1150 5th Sreet.
Augusta, GA 30901
Location: Near the Savannah River in Historic Downtown Augusta
Hours: Monday - Sunday: 7:00 a.m. - 7:00 p.m. (Year Round)
Tel: (706) 721-3004
Email: Send Email
Website: Visit our website
South Augusta Market - Journey Sherwood
3131 Old Louisville Road,
Augusta, GA 30906
Location: : Church parking lot, at intersection of Old Louisville & Wylie Drive
Hours: : 2nd Wednesdays, 4:00 - 6:30pm (March - November)
Tel: : (762) 233-5299
Email: Send Email
Facebook: Visit our Facebook page
Website: Visit our website
South Augusta Market - Golden Camp
2463 Golden Camp Road,
Augusta, GA 30906
Location: : Brigham Community Center grounds
Hours: : : Wednesdays, 4:00 - 6:30pm (April - November)
Tel: : (762) 233-5299
Email: Send Email
Facebook: Visit our Facebook page
Website: Visit our website
Rockdale County
Conyers Locally Grown
1264 Parker Road.
Conyers, GA 30054-3629 (
Location: Copy Central 1264 Parker Road, Suite A, just down from the old Maxwell building
Hours: Order Monday - Wednesday until 8:00 p.m. & Pickup Fridays: 5:00 p.m. - 7:00 p.m.
Email: Send Email
Website: Visit our website
 
Stephens County
Stephens County Market
325 North Broad Street,
Toccoa, GA, 30577
Location: North Broad Street, right near the Country Hearth Inn
Hours: Tuesdays: 3:00 p.m. - 7:00 p.m. / Saturdays: 8:00 a.m. - 12:00 p.m. (June - October)
Tel: (706) 282-3309
Email: Send Email
Facebook: Visit our Facebook page
Website: Visit our website
Sumter County
Lenny's Farmers Market
110 N. Hampton Street.
Americus, GA 31709
Hours: Saturdays: 8:00 a.m. - 12:00 p.m. (May-November)
Tel: (229) 924-4411 Ext 247
Email: Send Email
Facebook: Visit our Facebook page
Website: Visit our website
Thomas County
Farmers Market in Downtown Thomasville
209 West Remington Ave
Thomasville, GA 31792
Hours: Every Saturday 9:00 a.m. - 1:00 p.m.
Tel: (229) 236-1890
Email: Send Email
Instagram: @hubsandhopsmarket Website: Visit our website
Thomasville State Farmers Market
502 Smith Avenue
Thomasville, GA 31792
Hours: Mondays-Saturdays: 7:00 a.m. - 6:00 p.m. (Year Round)
Tel: (229) 225- 4072
Email: Send Email
Website: Visit our website
Tift County
Wiregrass Farmers Market
Address: 1392 Whiddon Mill Road, Tifton, GA 31793 
Location: at the Georgia Museum of Agriculture, behind the Country Store
Days/Hours: Saturdays 9a.m.-Noon April-July and October-Mid-November
Telephone Number: 770-634-9964 (Market Manager, Randi Hickman) 
Email: Send Email 
Facebook page: Visit our Facebook page
Website: Visit our website
Union County
Union County Farmers Market
290 Farmers Market Way
Blairsville, GA 30512
Location: near Home Depot
Hours: Tuesdays: 2:00 p.m. - 5:00 p.m. / Saturdays: 7:00 a.m. - 1:00 p.m. (June - October)
Tel: (706)439-6043
Email: Send Email
Facebook:  Visit our Facebook page
Website: Visit our website
 
Walker County
Battlefield Farmers Market
10052 Highway 27 North
Rock Spring, GA, 30739
Hours: Saturdays: 8:00 a.m. - 12:00 p.m. / Wednesdays: 3:00 p.m. - 6:00 p.m. (June-October)
Tel: (706) 397-9958
Email: Send Email
Facebook: Visit our Facebook page
Ware County
WayGreen Local Fare Market
1460 North Augusta Avenue,
Waycross, GA, 31503
Hours & Location: First Saturdays: 9:00 a.m. - 12:00 p.m. at Okefenokee Heritage Center (May - November)
Hours & Location: Third Saturdays: 10:00 a.m. - 1:00 p.m. at Waycross/Ware Public Library
Tel: (912) 282-8515
Email: Send Email
Facebook: Visit our Facebook page
Website: Visit our website
*Online Market: Visit our online market
Washington County
Downtown Sandersville Market
132 W Haynes Sreet,
Sandersville, GA 31082
Location: On the Courthouse Square at the corner of Haynes and Harris Streets
Hours: Wednesdays & Saturdays: 8:00 a.m. - 1:00 p.m. (April - October)
Tel: (478) 552-2525
Email: Send Email
Facebook: Visit our Facebook page
Website: Visit our website
Wayne County
Wayne County Farmers Market
533 North 1st Street,
Jesup, GA, 31545
Hours: Fridays and Saturdays from 10:00 a.m. - 2:00 p.m,
          April through November.
Tel: (912) 221-1233
Email: Send Email
Facebook: Visit our Facebook page
Whitfield County
Downtown Dalton Farmers Market
205 North Selvidge Street,
Dalton, GA 30720
Location: Dalton Green Park on the corner of Thornton Avenue and Waugh Street
Hours: Tuesdays: 10:00 a.m. - 3:00 p.m. (June - September) / Saturdays: 8:00 a.m. - 2:00 p.m. (June - October)
Tel: (706) 272-6662
Email: Send Email
Facebook: Visit our Facebook page
Website: Visit our website
Wilkes County
Washington Farmer's Market
13 North Spring Street,
Washington, GA 30673
Location: We are located behind the Courthouse in historic downtown Washington, GA.
Hours: Hours: Saturdays: 9:00 a.m. -12 p.m. (April - October) & 10:00 a.m. - 12 p.m. (November -March)
Tel: (727) 841-7297
Email: Send Email
Website: Visit our website