Meet Mental Health Hero Becky Brightwell.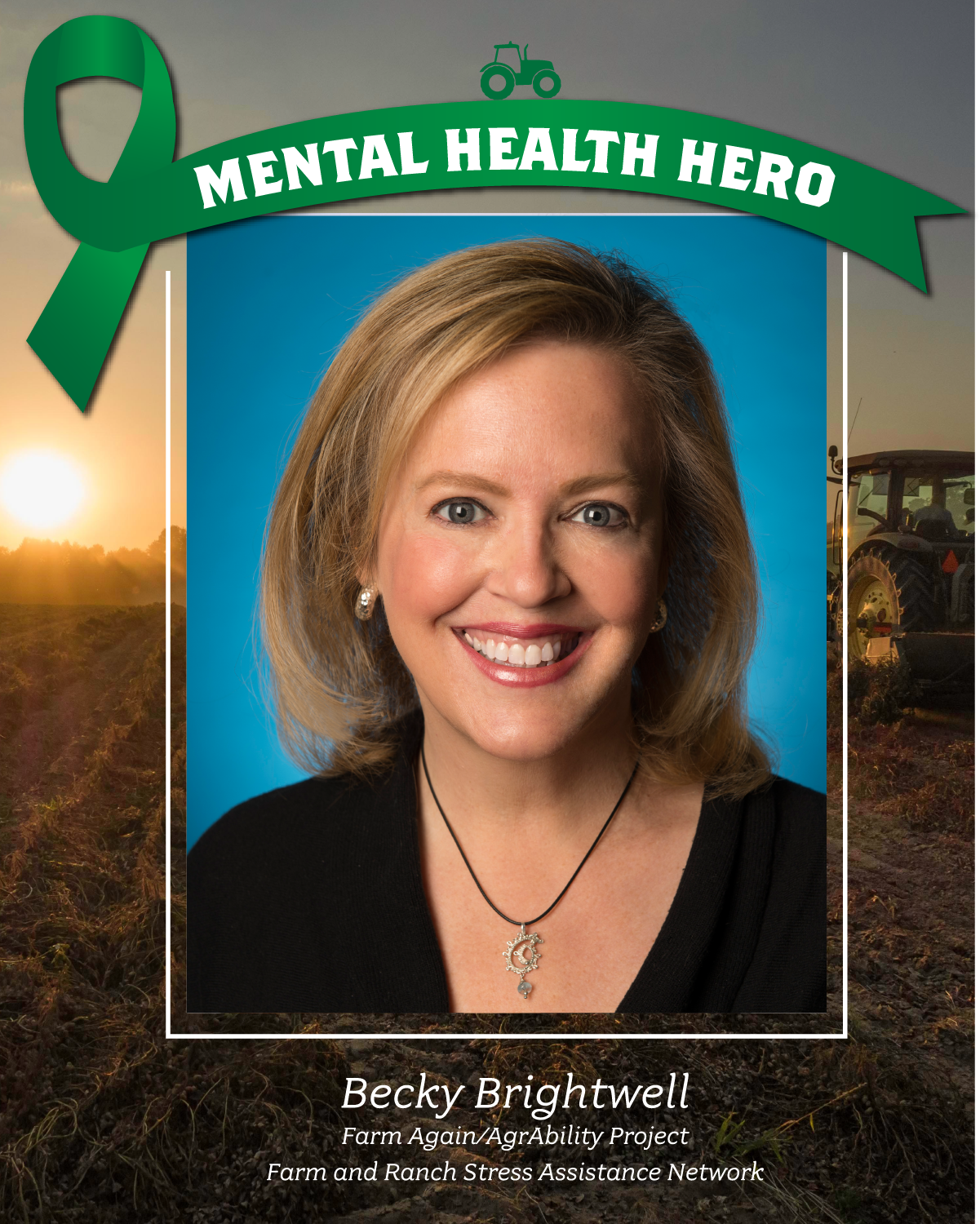 Each week of Mental Health Month, we'll be sharing some Q & A's from an ag hero working in the field. This week's spotlight is on Becky Brightwell, co-director of the Farm Again/AgrAbility Project as well as the Farm and Ranch Stress Assistance Network.
"Thank you so much for taking time out of your day to speak with us, Becky! First I want to ask, what drew you to focus on the mental health of Georgia's agricultural community?"
"My family owned a cotton gin for over 80 years. Today, my brother and I have forestry land. I am aware of the many stressors farmers face. Financial issues, weather, personal health, and family relationships are often the root causes of farm stress.
People may change jobs several times over their careers with many mainstream jobs. They can also more easily separate home and work environments. Farming is different than any other profession. Farm work life is tightly entwined with family life. Farmers are deeply connected to the land, with many passing down farms and family traditions from generation to generation. This connection to the land is often reflected in how farmers view their work, with many seeing themselves as stewards of the land and caretakers of the environment. When they are fearful of losing the farm, the impact can be very detrimental to their mental health and livelihood.
My grandfather died by suicide after he saw he might lose the cotton gin. While his life is remembered by how he lived versus how he died, the manner of his death significantly impacted the work I am doing now. Helping farmers through tough times and recognizing when they are in crisis is crucial. Training is available to teach individuals how to communicate effectively with others who may be struggling with mental health issues. It can help reduce stigma and create a more supportive environment. We have two different training opportunities that have been adapted for the farming community. We offer a 1.5-hour Question Persuade Refer (QPR) and an 8-hour Mental Health First Aid (MHFA) course. We also offer a MHFA course for military veterans and those who support them."
More information on Farm and Ranch Stress Assistance Network Training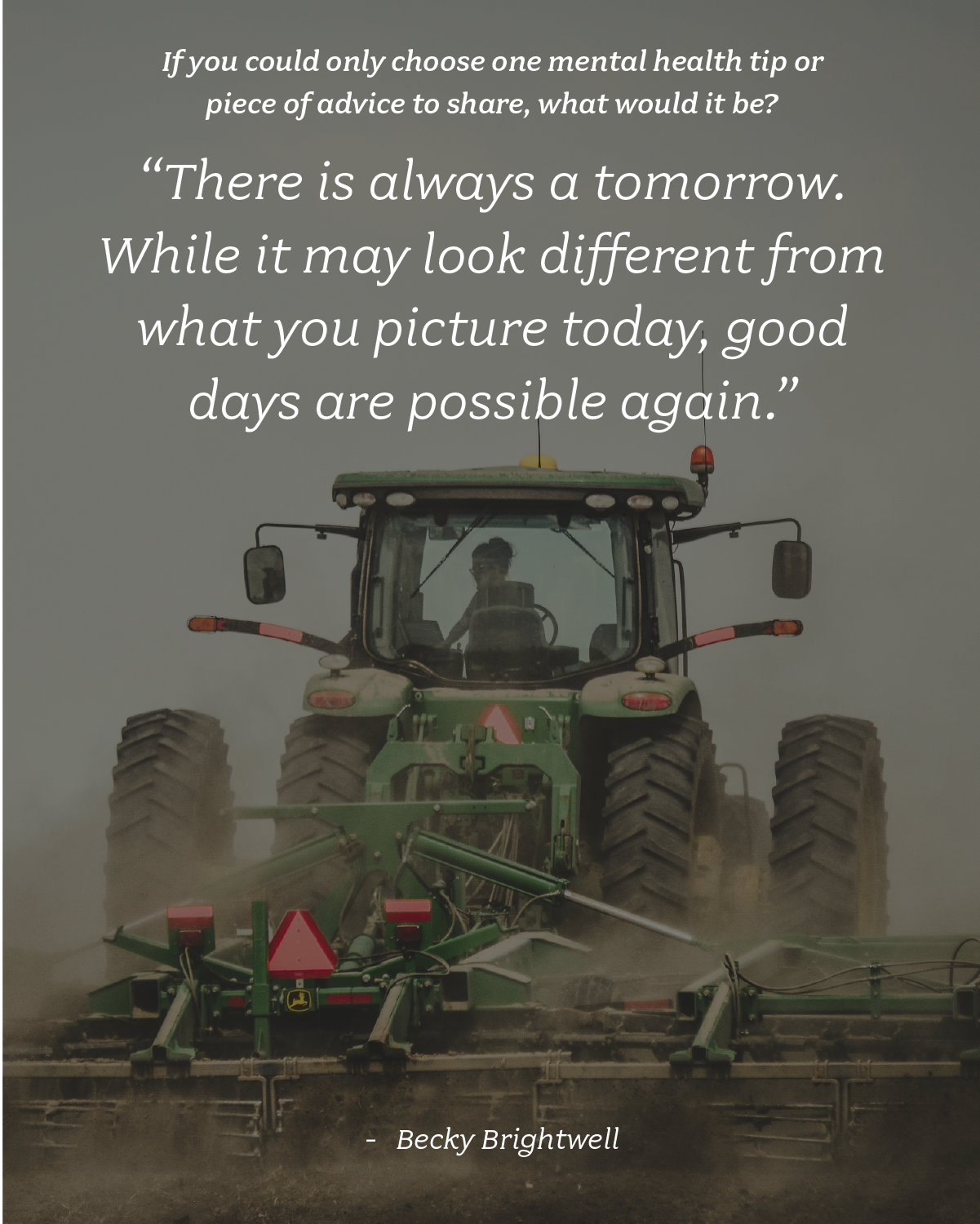 "Why is it important to focus on farmers?"
"Farmers are the backbone of our country. They work hard to grow and produce the food that feeds the population, and their work contributes significantly to the economy and the well-being of communities. Without farmers, we would not have a stable food supply or the many other benefits that stem from agriculture, such as job creation, rural development, and environmental sustainability. It is important to support and recognize the contributions of farmers and to work towards creating policies and programs that support their livelihoods and promote sustainable agriculture."
"How can we help people in our community that may be struggling with their mental health?"
"A few things come to mind...
Be aware of your surroundings.  Notice when someone is not present at events or places they usually frequent and follow up.  You may choose to call them, stop by, or invite them to do something together.   Let people know you care.
Get training in mental health so you feel more comfortable helping someone in crisis. 
Start the conversation around mental health to help reduce stigma.  In the United States, almost half of adults will experience a mental illness during their lifetime.  We need to work together to reduce the stigma."
"If you could only choose one mental health tip or piece of advice to share, what would it be?"
There is always a tomorrow. While it may look different from what you picture today, good days are possible again.
"What is your favorite way to maintain your own mental health?"
"I enjoy planning a short trip each month, so there is always something to look forward to. I also look forward to walking and spending time with family and pets."
Stay tuned for weekly features on mental health heroes throughout the month of May!