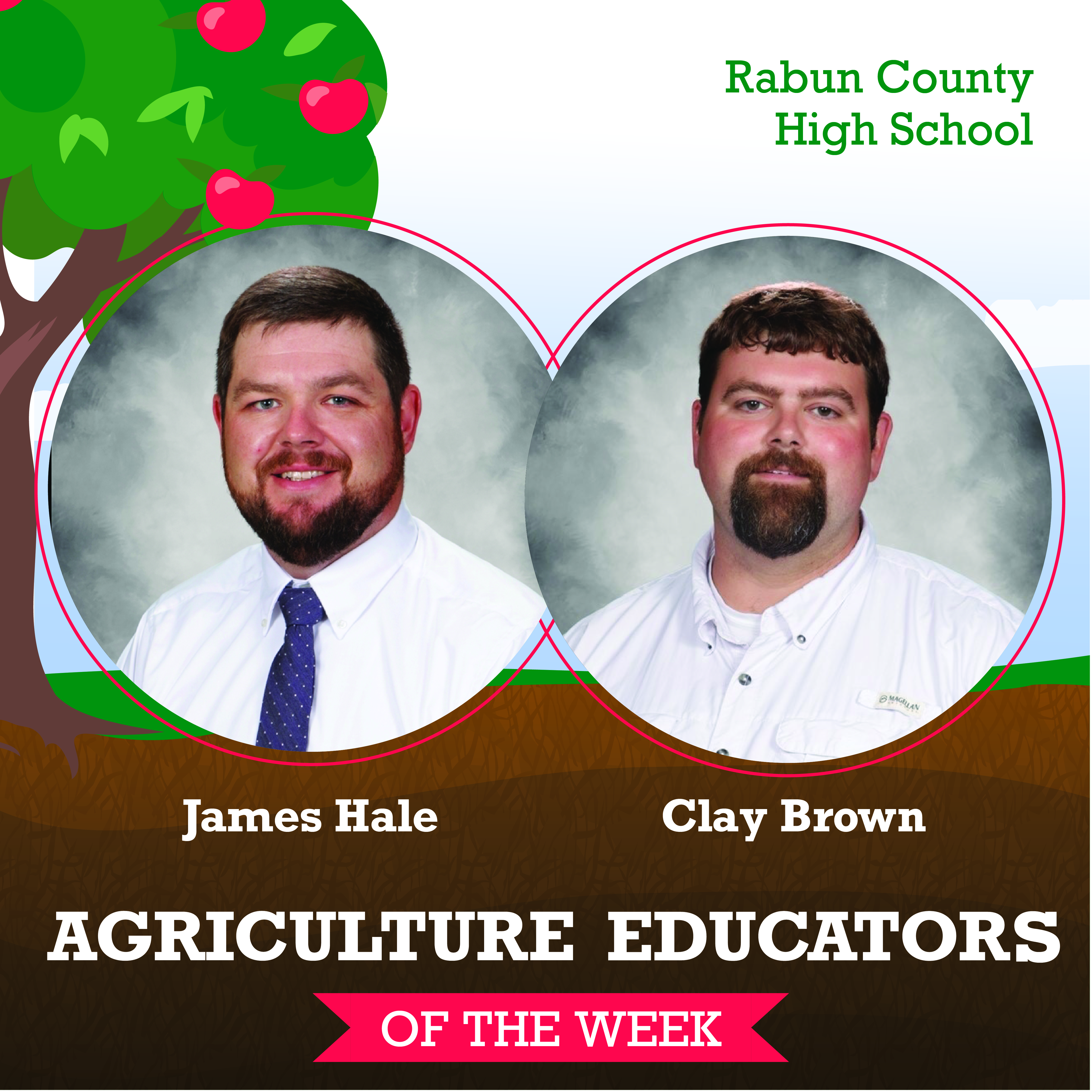 1. Where do you teach?
James Hale & Clay Brown: We teach at Rabun County High School in Tiger, GA.
2. What grade/s do you teach?
JH: Currently, I teach grades 8-12.
CB: 9-12
3. How long have you been an ag teacher?
JH: I am in my 11th year of teaching, which all have been in agricultural education.
CB: 11 years
4. What made you want to get involved in Ag education?
JH: I was involved in agricultural education throughout high school, and it was there that I was impacted by my Ag Teacher, Christopher Stripling. I saw the difference he made in the lives of many students, which led me to pursue Ag Education myself.
CB: I wanted to get involved in ag education because of my experience in high school agriculture as a student. I grew up in Jasper County, GA, and had a great teacher, Mrs. Cathy Gilmore. I credit the experiences that I had in FFA with helping me come out of my shell.
5. What is the most rewarding part of your job?
JH: The most rewarding part of the job is seeing students returning to their community as leaders. Whether it is in the agriculture field or not, the most exciting part is seeing them becoming an active part of shaping the future of their community and state.
CB: The most rewarding part of the job is seeing the excitement in the students during hands-on labs and experiences.
6. Why are Ag education programs an important part of our curriculum?
JH: Ag Education gives students the tools to build both hands-on and soft skills. Ag students come out of high school better prepared for today's workforce. More importantly, they are prepared with knowledge and skills to grow Georgia's largest industry, Agriculture.
CB: Ag Education classes are valuable because we can promote Ag Literacy in our communities. We need to teach the basics and provide opportunities for students to gain skills and career readiness.
7. Do you have any advice for individuals looking to get involved in Ag education?
JH: The best advice is to get active in your local Ag program. Whether you are in school or out, you can help students grow in numerous ways.
CB: If they are wanting to help out or volunteer, I encourage them to reach out to the local FFA Advisors, UGA Extension Agents, and the local Farm Bureau. There are plenty of opportunities for individuals to get involved and use their strengths to help promote Agriculture.
8. What do you enjoy doing outside of work?
JH: I love spending time with my beautiful wife, Kelly, and son Charlie. We enjoy getting out and seeing the beauty that Rabun County has to offer. We are blessed to live in a county most people see as a must-visit destination.
CB: I usually find myself spending time with my family and enjoying the outdoors.