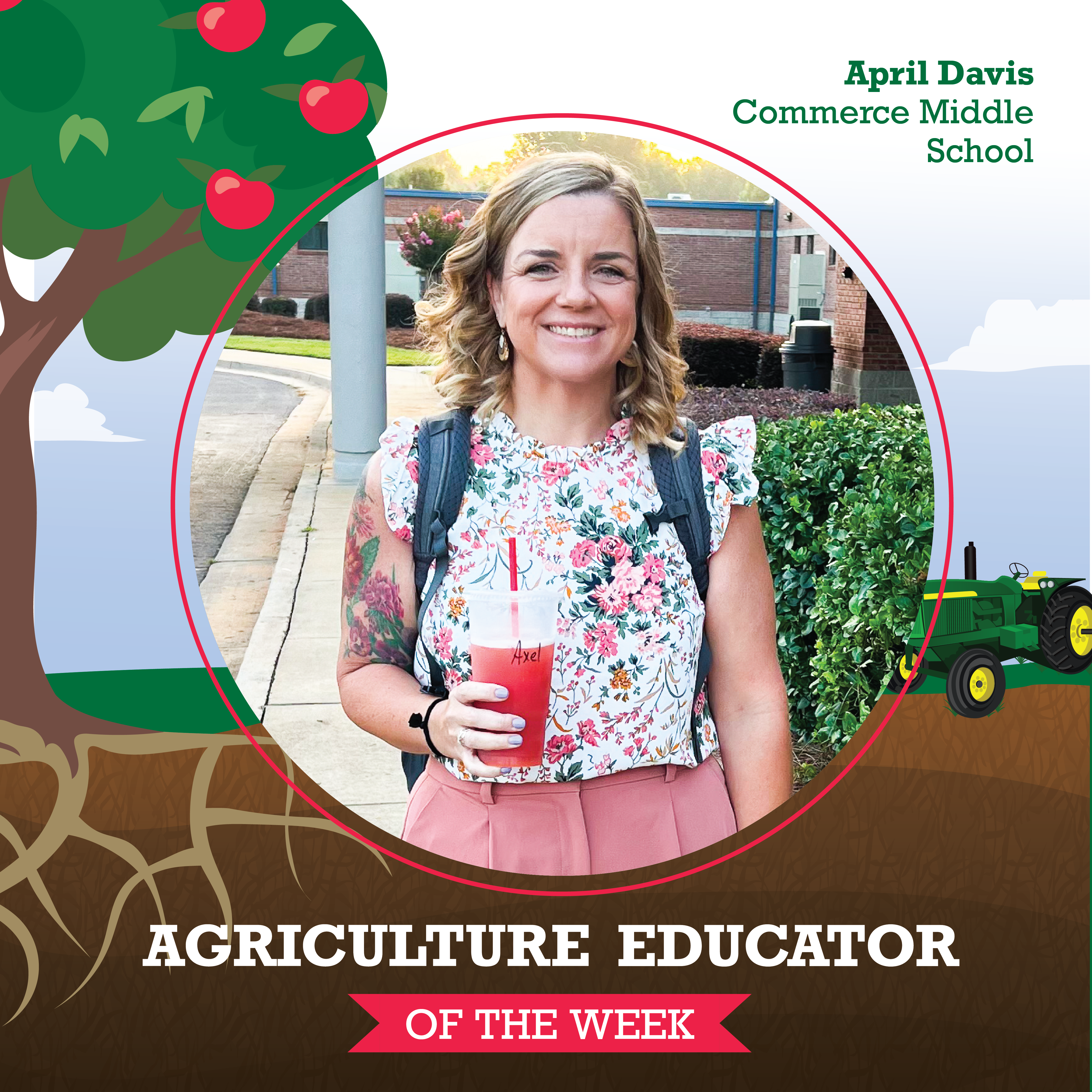 1. Where do you teach?
Commerce Middle School
2. What grades do you teach?
6th, 7th, & 8th
3. How long have you been an ag teacher?
18 years
4. What made you want to get involved in Ag education?
After working at the Georgia FFA-FCCLA Center during Summer Leadership Camp, I knew that I wanted to be an agriculture teacher. I always knew that I wanted to work in agriculture, and after going to SLC as a student and working there as a staff member, I loved seeing the relationships that agriculture educators get to build with their students outside of the classroom. There were so many learning opportunities both inside and outside the classroom, and I wanted to be a part of that!
5. What is the most rewarding part of your job?
I love building relationships with all the different students at our school - not just "traditional ag kids". Agricultural education helps in bringing all types of students together, and it is exciting to see everyone learning about our nation's most important industry.
6. Why are Ag education programs an important part of our curriculum?
Agriculture programs are so important to our curriculum because as our population is increasing, our land is not. More and more people are becoming more removed from agriculture over time, and we need to make sure to educate our future leaders about the sources of our food, fiber, and shelter and ways to preserve our resources for the future.
7. Do you have any advice for individuals looking to get involved in Ag education?
I would tell individuals looking to get into agricultural education to remember that YOU are the source of information for students to learn about agriculture, and you could be the only one they ever have. Make sure you highlight this wonderful industry, share the importance of it, and hopefully spark some interest in agricultural work in the future.
8. What do you enjoy doing outside of work?
I love making planners for many teachers and FFA members around the country with my business, Perfectly Planned by ATD. I enjoy going camping and hiking as well as taking trips with my husband, Skyler.